Exam Results
A full summary of results can be found at the Department for Education Performance Tables website here:
http://www.education.gov.uk/cgi-bin/schools/performance/school.pl?urn=137532
Celebrating Key Stage 5 Results at Goffs Academy - 2019
Students at Goffs have celebrated an excellent set of results in their A levels and Vocational qualifications.
Notably, students achieved a 100% pass rate, and half of all Vocational qualifications resulted in a Distinction or Distinction*. Students will now progress to a range of exciting future destinations. Around three quarters of the year group will commence university or further education courses, including such exciting and wide ranging courses as Law, History, Geography, Maths, Finance, Physics and Astrophysics, and Project Management for Construction. All students have confirmed destinations in further education, training or employment, including a number of students who will join prestigious employers on highly competitive apprenticeships.
Universities which our students will be attending include Hertfordshire, Nottingham, Kings College London, University College London, Durham, Reading, Queens and Bristol.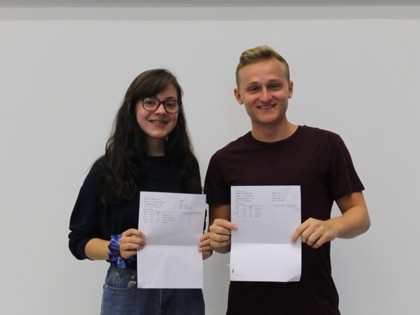 Just a few of our many students who have performed remarkably well, include Louise Harvey, Luke Bateman, and Olivia Turner, who all achieved 3 or 4 A or A*grades at A Level.
PUBLISHED KS5 MEASURES 2019
Progress/Average Grade:

A Level: -0.10/C
Academic Qualifications: -0.09/C
Applied General Qualifications: +0.33/Merit+
Tech Levels: NE

Students staying in education or employment for at least 2 terms after 16 to 18 study: 95% (national average 89%)
PUBLISHED KS5 MEASURES 2019
English GCSE Retake Progress: +0.00 (national average -0.2)
Mathematics GCSE Retake Progress: +0.75 (national average 0.0)
---
Celebrating GCSE Results at Goffs Academy - 2019
Year 11 students at Goffs have celebrated a superb set of results in their GCSE and Vocational qualifications. Student attainment in English and Maths far exceeded the national average. Across all subjects, one in every four grades issued was either a grade 7 or above, or a Distinction or Distinction*(equivalent to an A or A* grade).
A quarter of all Year 11 students achieved grade 7 or above (equivalent to A or A*) in at least five subjects. Nine students (Dilan Arikan, Shakyra Dharmakeerthi, Vinnie Gidden, Samin Hamid, Aidan Harris, James Martin, Jaden Rudd, Matthew Savidge and Isabelle Turner) achieved grade 9 (the highest possible grade) in at least five subjects, a truly incredible achievement.
Congratulations also go to Dilan Arikan, Lissy Batt, Aston Bush, Dani Duerden, Ben Holdway, Tommy Kiki, Joshua Manning, James Martin, Matthew Savidge, Isabelle Turner and Sude Unlu, who exceeded their target grade by an average of two grades or more in every subject.
We look forward to welcoming back the majority of our students in the autumn term as they return to school as Sixth Formers, while many others will progress onto exciting college courses and apprenticeships.
Mark Ellis, Principal, commented that;
"I am extremely proud of our Year 11 students and of the excellent results they have achieved. These superb outcomes represent much hard work from staff and students over several years, and are richly deserved. We look forward to welcoming many students back into the Sixth Form in September, and wish all of those starting college courses or apprenticeships the very best of luck."
Pictured below are Jaden Rudd, James Martin and Aidan Harris; just
a few of many students who performed remarkably well.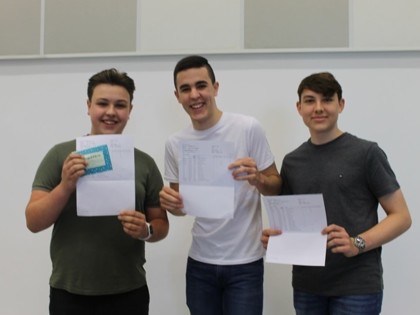 PUBLISHED KS4 MEASURES 2019
71% of students achieved 4+ grades in English and Mathematics GCSEs
English 4+: 89%
English 5+: 67%
Mathematics 4+: 76%
Mathematics 5+: 55%
Percentage of students achieving the EBacc qualification (English 5+, Mathematics 5+, 2 Science GCSEs, 1 Humanity and 1 Language): 25%
Attainment 8: 53.2
Progress 8: +0.27
Pupil destinations - pupils staying in education or going into employment: 99%