Welcome to the Sixth Form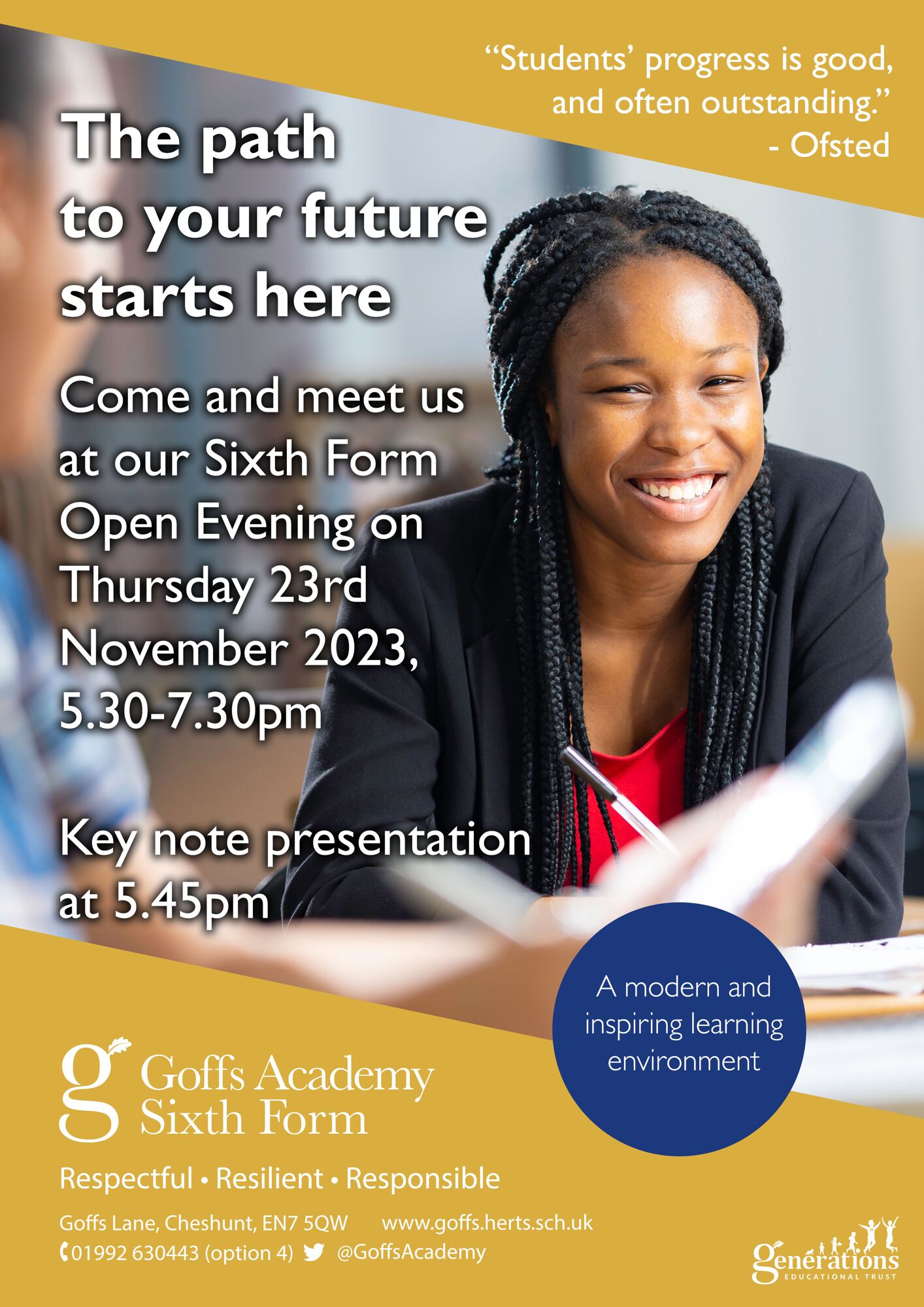 A warm welcome to our Sixth Form.
Sixth Form education provides a crucial transition between a student's education in Years 7 to 11, and their steps into university, employment or further training on leaving school. We recognise that this is a stage of paramount importance in students' lives.
The aim of our Sixth Form is to ensure the best possible learning experience for you and to provide an environment where you are encouraged to achieve both academic success and to develop
your wider skills and talents, ensuring that you
are fully prepared for the life that awaits you following Sixth Form.
As a member of Goffs' Sixth Form, you will be joining an extremely vibrant community of students and staff committed to achieving excellence in everything that they do. At Goffs we offer you the highest quality of learning and teaching, coupled with a dedicated team of Sixth Form leaders and Learning Managers who provide a sophisticated programme of support and mentoring from your first day.
We offer a full suite of qualifications to meet every need and career aspiration, with a wide range of A level subjects, and a diverse variety of other qualifications including the Extended Project Qualification (EPQ), Level 3 BTECs and other vocational qualifications. Sixth Form students enjoy the exclusive use of the common room and study area which provides a contemporary working environment. Students are encouraged to work diligently, to develop independence, self-confidence and an awareness of others. In return, we do of course expect high levels of individual responsibility and commitment, both to your own studies and to the wider school community.
As part of our enrichment curriculum all Sixth Form students undertake volunteering within our school community, often as sports leaders, reading mentors, or by providing support in specific subject areas. As well as making a hugely positive contribution across the school, this provides a distinctive competitive edge in applications for Higher Education or employment following Year 13.
Sixth Form students are also actively involved in extra-curricular activities throughout the school, ranging from participation in school plays and musical productions to representing the school in various sports, or training in our brand new fitness suite.
The Sixth Form at Goffs offers you a top class educational experience, reflected in the increasing demand for places from both current Goffs students and students from other schools. Whatever your goals and ambitions, our Sixth Form can deliver the results and enrichment opportunities to help you achieve your potential.
Theresa Harris
Assistant Principal