Overview




The aim of our house system is to:
Develop our school community and heart
Give every student and member of staff a sense of belonging
Drive up standards through healthy competition
Please use the links to the left to find out more about each of our houses.
2019/20 House Point Totals
The final house point totals for last academic year were as follows;
| Rank | House | Total Points |
| --- | --- | --- |
| 1 | Eagle | 1,808,685 |
| 2 | Falcon | 1,797,082 |
| 3 | Hawk | 1,745,150 |
| 4 | Phoenix | 1,598,238 |
Congratulations to Eagle house the champions for 2019/2020!!

Trip to the Ambulance Air Base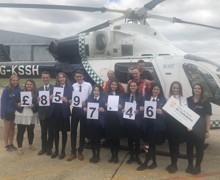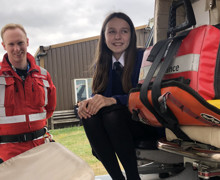 On Monday 15th July, Miss Myers, Miss Hague and the house team were invited to visit the air ambulance air base in North Weald to find out more about how our donations support the charity.
The whole experience was an absolute eye opener for us as a team as we had the opportunity to be a part of what an average day is like at the Hertfordshire air ambulance base. Upon arrival we met up with Jeannie, the charity coordinator, and were swiftly advised to get a quick photo in front of the helicopter, as at any point there could be a call out and the helicopter and crew would need to depart. Each student, and even Miss Myers, were lucky enough to sit in the pilot's seat of the helicopter and were able to witness the array of switches, buttons, and screens that surround the two drivers when on a mission. We then had the opportunity to meet the crew and we were talked through the rapid response following an incoming call - usually there are three members at work, a paramedic, a doctor and a pilot, all awaiting that call from one of the 3 Ambulance controllers in the East of England.

The visit was also extremely informative. While conversing with members of the crew, we were talked through some simple statistics and details of how the EHAA run. On average there are about 3 missions a day, each flight costs roughly £2500, so the £8597.46 that we have proudly raised as a school, would pay for about 4 flights, with each flight saving a potential life.
Whilst we were on board taking photographs and chatting with the crew we heard the signal alarm begin to ring. At this point the crew snapped in to action and we swiftly got out of their way and to a safe area so we could observe the take-off procedure. Kate Davies was sat in the helicopter and the time and had to jump off very quickly as the crew set up for take-off. Although this was an exciting experience for us, it really resonated that as we watched the helicopter depart they were on their way to save someone's life.
We were shocked to discover that the Air Ambulance does not receive any funding from the NHS and is an independent charity of which relies heavily on external fundraising. As stated above, as a school since September we have raised a phenomenal £8595.50 for the Essex and Herts Air Ambulance. The charity are so grateful for our donation and explained that our donation by far exceeded any amount other schools have been able to raise for them in just one year. Jeannie explained that one school have been fundraising for them for 10 years and have just hit £9,000. This made us feel extremely proud of our achievement and that we were able to donate such an astounding amount to such a worthy cause.
Although we will be putting the air ambulance back in to our charity vote it cannot be guaranteed that our students will chose them for next academic year. When talking to Jeannie she explained that 60% of their donations come from their charity lottery, so if you are interested in continuing to support the charity this might be something you want to sign up to as a family, all the details for this are on their website.
Upon returning to school Miss Myers received the following email from Jeannie:
"So nice seeing you today, and what a lovely bunch of kids! Adam and Tony commented on how bright and well-presented they all were. I hope everyone enjoyed themselves as much as I did today, I'm so glad you got to have a look in the helicopter and see it take off, days like today are why I love my job!"
Overall we had such an excellent day and it was a fantastic way to end such a successful year of fundraising for the charity.
Cindy Long
Year 10
Thank you
I would like to take this opportunity to say a final thank you to everyone across our community for supporting the House system, be that donating money or getting involved in competitions. The House team are extremely grateful for all of your support.
Alongside this I would like to congratulate all of our House team members for their commitment and organisation this year; it has been a pleasure to work alongside you.Over the last 12 months, the House system has gone from strength to strength, and has seen more House points awarded, more events held and more money raised than ever before! We have raised an astounding £10, 830 for our school charity EHAA, superseding our target of £9,000.
House events this half term:
Coming up…
W/C Monday 16th November – House assemblies
Monday: Eagle
Tuesday: Falcon
Wednesday: Hawk
Thursday: Phoenix
Monday 30th November - Friday 4th December - Hygiene Product Collection for The Hygiene Bank Charity
W/C Monday 9th December - Christmas hampers being sent to local care homes
W/C Monday 14th December - Candy Cane event
W/C Monday 14th December – Christmas Quiz in ATM
Friday 18h December – Christmas Jumper Day