Virtual Open Evening 2021
A very warm welcome to our school. Whilst this year we are unable to welcome you in person and show you around, we will be hosting a Virtual Open Evening . We are extremely proud of our students, and the work we do, and hope that through the information provided here, prospective students and parents will gain a good understanding of what it is like to be part of our school community.
Our School Video will be made available on this webpage, from 4.00pm onwards on Thursday 16th September. If you would like to ask any specific questions relating to the school, please complete the form below. These questions will be answered during our Virtual "Q&A with the Principal". This will take place from 5.00pm on 16th September 2021.
School Video:
Facilities Video
Click here to complete the form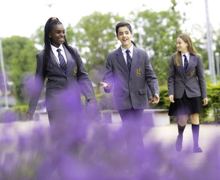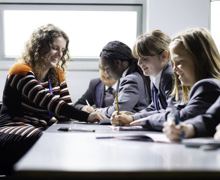 In addition to the information available online, there are several other ways to find out more about our school:
School Tours:
We will be running school tours from the 20th to the 23rd September between 4:00pm-6:00pm. These will be small group tours with a member of SLT. Please note that you will need to book a slot by calling school Reception on 01992424200 or emailing admin@goffs.herts.sch.uk. Please note that we have limited spaces for the tours.
Parent Surgery:
In order to support parents with any admissions queries that you may have, we will run a socially distanced Parent Surgery in school on Wednesday 22nd September 2021, between 4.00pm and 6.00pm. At this surgery, you will be able to pose any admissions related queries to our admissions specialists, as well as meeting with our SENCO (Special Educational Needs Co-ordinator) and the Principal, if you have specific questions for either of them. These surgeries will be by appointment only and we anticipate high demand; to arrange an appointment, please email nwa@goffs.herts.sch.uk.
How to Apply for a Place:
Should you wish to apply to join us, please do note the key dates below. In the interim, if you have any questions that are not addressed by the information here or the Parental Surgeries, please do not hesitate to contact us on 01992424200 or emailing admin@goffs.herts.sch.uk.
If you have any admission queries, please email your question/query to Nicky Walters - nwa@goffs.herts.sch.uk
Key Dates:
Applications for the Aptitude test (including supplementary information form) must be received by 24th September 2021. Unfortunately, we will not be able to process any applications for the Aptitude Test received after this date. Please ensure you use the correct postage if you are posting forms.
An email with arrangements for the test will be sent out during the week beginning 27th September 2021
Socially Distanced Aptitude test – 9th October 2021
Letters with scores will be issued by 22nd October 2021
Applications deadline to Goffs for all other criteria (including supplementary information form) – 31st October 2021
Deadline for applications to HCC –31st October 2021

Key Documents
Additional Information Booklet
Supplementary Information Form – all applications
Aptitude Test Application Form for 2022 Admission