eSafety
10 Apps Teens are Using that Parents Need To Know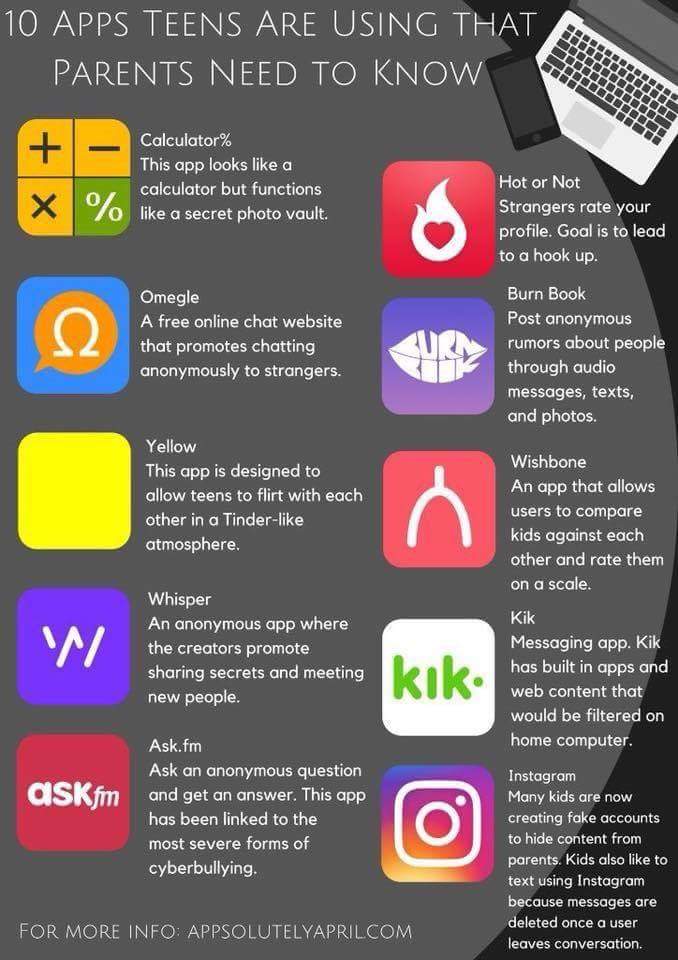 At Goffs we promote the Childnet Be SMART on the internet ethos in lessons and activities: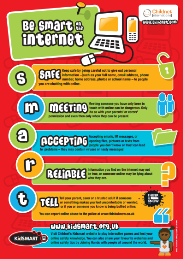 ParentInfo also provides lots of helpful information about eSafety:
Interactive guide to help you set up your parental controls for all gadgets in your home. http://www.internetmatters.org/controls/interactive-guide/
Ask.fm - eSafety Advice
Student Acceptable Use Agreement / e-safety Rules
Useful information and links for parents
Mind the Gap Leaflet
Home & Family Guidelines
Childnet parents section
BBC Webwise
Google Family safety centre
Vodafone Parents Guide
CEOP's Thinkuknow for Parents and Carers

eSafety at Goffs

Infrastructure
We use Hertfordshire Internet & Connectivity Services (HICS) which has robust content filtering to ensure that all users have an appropriate, productive, enjoyable and, of paramount importance, safe on-line experience.

The Promotion of eSafety

All Year Groups

eSafety is promoted via clear posters in all ICT rooms, which are referred to regularly in lessons.
All students and staff take part in Safer Internet Day in February.
Assemblies are run in all year groups to address the Safer Internet Day theme in February and letters are sent to all parents.
Annual letters are issued that give guidance to parents regarding how to stay safe online to tie in with Safer Internet Day.
Students are regularly made aware about how to report problems that occur online and students do this when required.
Peer mentoring is in place, which can be used to support students with the safe use of online technologies.
Community Cyber Squad Club is run after school for students from a range of year groups.
Addressing e-safety issues as and when they come up with sanctions in place to enforce policies.
There is a webpage on the school web site which highlights our "Anti Bullying Initiative Accreditation Award".
A series of Awareness of Cyberbullying assemblies are run each year.

Year 7

A CyberSafe assembly is run to introduce the safe internet use app designed and produced by the App club last year.
All students agree to and sign the "Student Acceptable Use Agreement / e-Safety Rules"
Anit-bullying Advocates attend Year 7 ATM sessions and cover Instragram and Snapchat privacy and safety sessions.
Anti-bullying is covered regularly during ATM

Year 8 & 9

Year 8 complete a unit on "Staying Safe" which includes dangers of using online technology and measures to protect against the dangers, how to socialise in a safe way online and understanding the risks involved to themselves and others.

Year 10 & 11

There are units in the core GCSE ICT Scheme of Learning that cover "Operating Online", "Security and Privacy Issues", "Monitoring Movements and Communications" and "Safe and responsible Practice"
During Year 11 Parents Information Evening, information is given about e-safety and how to ensure students use the internet responsibly. This will be expanded to all parents evenings and information evenings next year.
On Year 9 on Drop Down Day, students look at their 'digital tattoo'/'footprint' and the impact this has on their lives; the laws and impact of 'revenge porn' are also covered.

Extracts from School Policies
From the Behaviour Policy:

Mobile phones and other digital devices, including headphones, are not permitted at any time at Goffs. Devices must be kept switched off and out of sight. Students who do not adhere to this will have their device(s) confiscated and given to Reception, where they will need to be collected by parents or carers. This includes the school restaurant area, all corridors and classrooms, and outside areas of the school, and includes break and lunchtimes.

If a student refuses to hand over their mobile device upon request, a sanction will be put in place which will be a minimum of one day in isolation. If a mobile device and/or headphone set is confiscated three times or more within an academic year, this will be deemed as persistent failure to follow school rules. At this point the school will implement escalated sanctions, which may include a red report, BSP or PSP.

Please note that mobile devices are not to be used to contact home in the case of illness or any other reason. In these instances, students must follow the standard protocol of seeing a member of Student Reception who will determine the appropriate next steps, and contact parents/carers if required. The school accepts no responsibility for the loss or theft of mobile phones or other devices.

From the Internet Usage policy:

Staff should:

never give students their personal mobile number
never link with students on any social media site unless it is via an official school site
never exchange personal texts or calls with students
never arrange to meet with students outside school apart from for official school events

The School has a duty of care to students and as such monitoring of e-mails and social networks is necessary. In most cases the Systems Manager will specifically warn you before introducing continuous monitoring of your internet usage or e-mails. However, in limited circumstances (for example - where warning you in this way would prejudice an investigation) the school may monitor without giving specific warning of this first. Social Networks may be monitored through use of keyword searches or by looking at publicly displayed content. All public content is subject to monitoring by both the school and external bodies.

From the Staff Acceptable Use Agreement:

I will ensure that all electronic communications with students and staff are compatible with my professional role. This includes the use of social networking.
I will not give out my own personal details, such as mobile phone number and personal email address, to students.
Images of students and/ or staff will only be taken, stored and used for professional purposes in line with school policy and with written consent of the parent, carer or staff member. Images will not be distributed outside the school network without the permission of the parent/carer, member of staff or Principal.

From the Student Acceptable Use/eSafety Agreement:

I will be responsible for my behaviour when using the Internet. This includes resources I access and the language I use.
I will not deliberately browse, download, upload or forward material that could be considered offensive or illegal. If I accidentally come across any such material I will report it immediately to my teacher.
I will not give out any personal information such as name, phone number or address. I will not arrange to meet someone unless this is part of a school project approved by my teacher.
I will ensure that my online activity, both in school and outside school, will not cause my school, the staff, pupils or others distress or bring into disrepute.
I will support the school approach to online safety and not deliberately upload or add any images, video, sounds or text that could upset or offend any member of the school community
I understand that all my use of the Internet and other related technologies can be monitored and logged and can be made available to my teachers.
I understand that these rules are designed to keep me safe and that if they are not followed, school sanctions will be applied and my parent/ carer may be contacted.