Results
Celebrating Key Stage 5 Results at Goffs Academy - 2019
Students at Goffs have celebrated an excellent set of results in their A levels and Vocational qualifications.
Notably, students achieved a 100% pass rate, and half of all Vocational qualifications resulted in a Distinction or Distinction*. Students will now progress to a range of exciting future destinations. Around three quarters of the year group will commence university or further education courses, including such exciting and wide ranging courses as Law, History, Geography, Maths, Finance, Physics and Astrophysics, and Project Management for Construction. All students have confirmed destinations in further education, training or employment, including a number of students who will join prestigious employers on highly competitive apprenticeships.
Universities which our students will be attending include Hertfordshire, Nottingham, Kings College London, University College London, Durham, Reading, Queens and Bristol.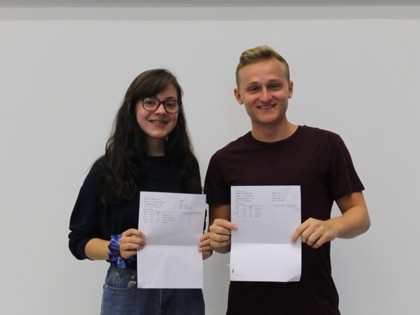 Just a few of our many students who have performed remarkably well, include Louise Harvey, Luke Bateman, and Olivia Turner, who all achieved 3 or 4 A or A*grades at A Level.
PUBLISHED KS5 MEASURES 2019
Progress/Average Grade:

A Level: -0.10/C
Academic Qualifications: -0.09/C
Applied General Qualifications: +0.33/Merit+
Tech Levels: NE

Students staying in education or employment for at least 2 terms after 16 to 18 study: 95% (national average 89%)
PUBLISHED KS5 MEASURES 2019
English GCSE Retake Progress: +0.00 (national average -0.2)
Mathematics GCSE Retake Progress: +0.75 (national average 0.0)
| | |
| --- | --- |
| Destination 2019 | Course |
| Greenwich University | Drama |
| Warwick University | Sociology |
| University of Westminster | Business Information Systems |
| University of Herts | Midwifery |
| Bournemouth University | Sports Psychology and Coaching Sciences |
| Kings College, London | Biochemistry |
| Nottingham Trent University | Psychology |
| Durham University | Mathematics (4 years) |
| University of Portsmouth | Cyber Security and Forensic Computing |
| Lincoln University | Classical Studies |
| De Monfort University | Software Engineering |
| University of Nottingham | Criminology and Sociology |
| University of Kent | Psychology |
| Oxford Brooks University | Psychology |
| University of Greenwich | Marketing Management |
| City University London | English |
| University of Gloucester | Religion, Philosophy and Ethics |
| University of Westminster | Business Management (Finance) |
| University of Kent | History |
| Kings College, London | English |
| University of Hertfordshire | Music Industry Management |
| University of Hertfordshire | Music Production |
| University of Hertfordshire | Midwifery |
| City University London | Psychology |
| University of Hertfordshire | Computer Science |
| University of Nottingham | Finance, Accounting and Management |
| University of Hertfordshire | Marketing |
| University of Hertfordshire | Mass Communications |
| University of Nottingham | Mathematics |
| University of Nottingham | Physics with Astronomy |
| University of Birmingham | Geography |
| SOAS University of London | Economics |
| University of Hertfordshire | Law |
| Loughborough University | Commercial Management and Quantity Surveying |
| University of Hertfordshire | Business Studies |
| University of Hertfordshire | Photography |
| University of Hertfordshire | Criminal Justice and Criminology |
| University of Essex | International Relations |
| Cardiff University | International Relations |
| University of Kent | Actuarial Science with a Foundation Year |
| University of East Anglia | Biological Sciences with a Foundation Year |
| University of Hertfordshire | Law |
| University of Southampton | Law |
| University of Hertfordshire | English Literature and Media |
| University of Liverpool | Film Studies |
| University of Hertfordshire | Journalism |
| University of Surrey | Biomedical Science |
| University of Hertfordshire | Computer Science |
| Royal Holloway | History |
| University of Portsmouth | Engineering and Technology with Foundation Year |
| University of Essex | Biological Sciences |
| Aberystwyth University | Physics with foundation year |
| University of Liverpool | Nursing |
| University of Essex | Sociology and Criminology |
| Anglin Ruskin University | Primary Education Studies (Accelerated) |
| University of Portsmouth | Sociology with Psychology |
| Coventry University | Digital Technologies (Foundation Year) |
| University of Hertfordshire | Psychology |
| Kings College, London | History |
| Nottingham Trent University | Business Management and Economics |
| Kings College, London | Psychology |
| University of Hertfordshire | Aerospace Technology with Pilot Studies |
| Queens Medical University | History |
| University of West London | Nursing (Learning Disabilities) |
| University of Bristol | Cancer Biology and Immunology |
| De Monfort University | Forensic Science |
| Lancaster University | Psychology (Study Abroad) |
| University of Reading | Zoology with Foundation |
| Bristol, University of the West of Eng | Real Estate |
| University of Brighton | History |
| University of Essex | Drama |
| Falmouth University | Sports Journalism |
| University of Hertfordshire | Journalism |
| University of Hertfordshire | Business Studies |
| University of Hertfordshire | Business and Marketing |
| Queens Medical University | Geography |
| University of Hertfordshire | Psychology |
| University of East Anglia | Business Management |
| University of Nottingham | Computer Science |
| Royal Holloway | Human Geography |
| University of Bath | Chemical Engineering (with placement) |
| Cambridge University | History |
| University of Portsmouth | Advanced Dental Nursing |
| University of East Anglia | History |
| University of Herts | Sports Studies |
| University of Arts London | Performance: Design and Practice |
| University of Essex | Business Management (Including Placement Year) |
| Birmingham City University | Speech and Language Therapy with Foundation Year |
| University College London | Pharmacy |