Art
Curriculum Intent 2019/2020
Curriculum Maps 2019/2020
Art-Year-7-13-Curriculum-Map.pdf
Photo-Year-9-13-Curriculum-Map.pdf
Goffs Art & Photography Department
We love Art. That is our motto in our beautifully equipped department.
At Goffs we pride ourselves on high quality teaching, whilst nurturing creativity in all. Teachers are highly experienced and have a wide skill set, enabling students to learn from us in areas such as: drawing, painting, printmaking, 3d, mixed media and digital processes. We want our students to become passionate and intelligent through art, whatever their ability. We ask that our students come to us willing to have a go with the promise that if they do, we will help them 'fly'!
We aim to instill traditional skills in our students but also to enable them to work with imagination and independence.
Links
Broxbourne Council's World War One Commemorative programme - Nov '17
Year 7
In Year 7 we focus on developing the foundation skills to be a successful artist.
We begin with observational drawing – learning the fundamental basics of line, shape, tone, form, texture and pattern (formal elements). We then progress onto other art techniques, materials and processes – for example, how to use developing tonal applications with colour pencils, progressing onto using watercolours, colour mixing, creating shade and tints. We also explore writing about art and analysing it using visual literacy and research methods. Homework is set every lesson and will give opportunity to consolidate skills learned in lessons, research and learn new skills through 'flipped learning'. Students will have the opportunity to build upon these skills further as we progress into year 8.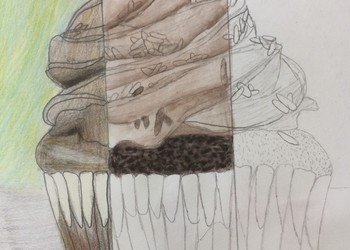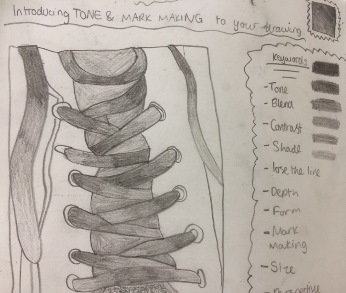 Year 8
In Year 8 we build on the skills from Year 7 to ensure our students feel confident to begin a GCSE in the subject should they wish to.
We base our work on the theme of Cubism; as learners we need to be able to understand how an artist works and how they see the world, in context to the world around them. We explore both Analytical & Synthetic Cubism and experiment with a range of techniques and materials, including 3D (cardboard and clay). We also progress onto using acrylic painting and painting techniques, continuing to learn about mixing colour ways and blending.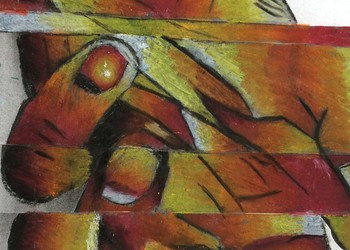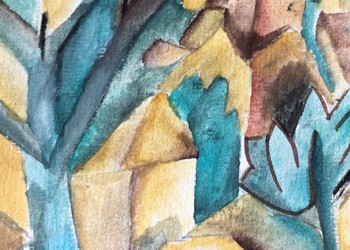 GCSE
KS4
GCSE Fine Art
It is our mission at Goffs to develop well rounded artists who are hardworking, independent and not afraid to take risks in the work they do. We explore a wide range of themes and look to our learners to identify themes of interest. We explore a wide range of media, including drawing, painting, print making, sculpture and mixed media. Students begin a foundation year in Year 9 before beginning the 2 year GCSE course, in Years 10 and 11. This allows them to build up their skillset. Students study towards the AQA GCSE qualification – 60% portfolio (coursework) and 40% exam (timed project with 10 hour outcome). Drawing and written annotation is a compulsory part of the AQA specification.
Click here for examples of Year 10 Work
Click here for examples of Year 11 Work
AS Level
AS A2 Fine Art
Currently we deliver an AS in Year 12 and the A2 qualification in Year 13.
Year 12 is an opportunity to develop skills further, building on the experience of GCSE Art & Design and develop practice in a range of media including: drawing, painting, print making, sculpture and mixed media. Portfolio work is created through the theme of 'Materials'. Students take part in a range of workshops facilitated by the department staff. They are encouraged to explore their own ideas and investigate areas of interest. We pride ourselves on encouraging risk and experimentation.
Click here for more Year 12 & 13 work
A2 Level
A2 Fine Art
Currently we deliver an AS in Year 12 and the A2 qualification in Year 13.
Year 13 takes the AS skills from Year 12 to a deeper investigative level. Students are expected to choose their own line of enquiry, investigating and researching about artists, techniques and themes to inform and develop their own practice as an artist. Students will use techniques learned from Year 12 and are expected to build on these independently as well as finding new techniques, methods or applications. Students are expected to be resilient and hardworking.
All students must submit a written essay (1000 – 3000 words) as part of their coursework unit about an area they are interested in, relating to their investigation. Students must also submit a written bibliography evidencing their research.
Click here for more Year 12 & 13 work