Student Leadership
Sixth Form students are expected to be leaders in and around the school environment. They should be role models for students in the main school body, and will be expected to take part in events and house activities. Specific examples of leadership are an excellent addition to UCAS or career applications.
Head Boy - Samuel Edwards
Being Head Boy of Goffs Academy is a privilege and a title I am proud to h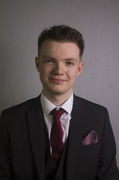 old.

Over the years I have been involved in many student societies including, the House Team, Student Parliament, Digital Leaders and Lead Prefects. I have also been involved in the Drama Department's shows over the years, running both sound and lights. Some of the shows I have been a part of include: Little Shop of Horrors, The Lion the Witch and the Wardrobe and Bugsy Malone. In January 2018 I attained an accreditation in leadership from "The Schools, Students and Teachers network" (SSAT).

I am currently studying BTEC IT and Photography and hope to do a degree apprenticeship in IT and ultimately become a Network Engineer as IT is something that I am particularly interested in.

I hope that before I leave the school, myself along with the Head Girl, Deputies, the Lead Prefects and the rest of the Top Team can make a difference to the school both for staff and students.
Head Girl - Katy Pinnell
I am delighted to be the Head Girl of Goffs Academy and am really looking forward to implementing both mine and the Top Team's ideas throughout the year ahead.

With a hope to pursue a career in cancer and stem cell research, I am currently studying Biology, Chemistry and Maths A'Levels. As well as this, I am also undertaking an EPQ focusing on an area of scientific research that I am particularly interested in.

Since joining Goffs, I have had the opportunity to be an Anti-Bullying Advocate, attend numerous student conferences, mentor year 11s and be part of the Lead Prefect Team.

This year, along with the other Senior Lead Prefects, I hope to be able to introduce some exciting plans, strengthening the community in not only Goffs, but also throughout the Generations Trust.